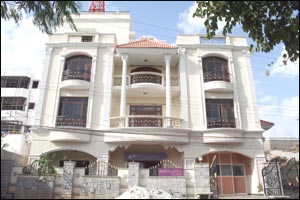 They exert your body 'n' nosh your soul. 'N', at the end, you are invigorated, spanking new 'n' about three kilograms lighter.

For, Body 'N' Soul specializes in losing your weight for you. As you join, they check your vitals, prepare a diet plan, prepare an exercise plan, coddle you to work out, and by the end of the session, you lose some weight.

The place has specialized trainers to help in the gym, teach you yoga, teach you Taebo, and of course, the cream of the crop, aerobics. While Ramesh is the only one handling aerobics and Taebo, Sailendar, Sarita and Sri Hari take turns at helping in the gym and at the yoga. The owner and manager Dhananjay works solely on the supervision of the place.

The dietician Dr. Janaki visits every second Saturday to make sure that the results are tangible. If not, the famous torture technique of dieting is applied. The dieting is also personalized to ensure torture that hurts your specific type of body the most.

A schedule based completely on empirical data, it is fool-proof. If by any teeny-weeny chance the method does fail, you can strut up to the management in all your burning fury, pay them their dues and leave, or feign ignorance and sign up for another month.

For, there is no doubt you will love the place. Fully air-conditioned, it boasts of different rooms for different activities, and a cute little locker room for your valuables. The most enthralling part is that there are no separate timings for men and women. So it is a place where you either work out with your mate, or find yourself a mate to 'work out' with.

Of course, after all the rigmarole of planning your schedule, you could just spend your day in their cozy reception area, watching TV and staring at their most exquisite clock.