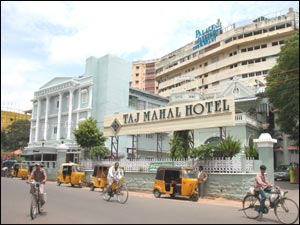 The Scene
Sneaking discreetly off the tumultuous traffic of the Abids road leading to the GPO has its own pleasures, especially if you are in the mood for some good udipi food. Taj Mahal Hotel, with its huge dining area and vastly overrated food, is the most sought-after restaurant in the vicinity. The reason for its popularity is, however, written all over its menu. And in lunch-time, the waiting area is as crowded as the actual restaurant itself - proof enough for the addictive influence the Taj has on its patrons.

The Food
The multi-cuisine restaurant has now added vegetarian Chinese cuisine, pizzas, and North-Indian veg delights and biryanis to its curry-patta seasoned South-Indian affair. The South-Indian food starts with a thali of 2 curries, a dal, several chutneys, dahi, raita, 2 sweets and an unlimited supply of rice, all for a mere, er, Rs. 60. The North-Indian cuisine has Rajasthani platters, some delicious gobi manchurian, and Bhindi Do-Piyaza, and is about Rs. 75. And the special thalis cost more.

The popularity of the place has to do more with the snacks - the idlis and the dosas. While they cost thrice as much as they would in a normal non-air-conditioned place (this is non-air-conditioned, even though there is a separate air-conditioned enclosure), the taste is undeniable.

The Verdict
Excellent food, especially if you consider anything walking on two or four legs as unedible.
EVENTS AT TAJ MAHAL COFFEE SHOP
There are no events at Taj Mahal Coffee Shop scheduled currently.