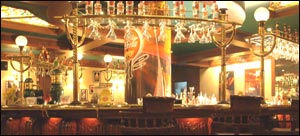 You might think the city's most popular watering hole a little strange the first time you walk in. The lights are turned a little too bright for a pub, there's no way to find a common visitor profile, all sorts seem to be here, and the walls are painted to look like bookcases full of handsome hard-bounds. What exactly were they going for here, you wonder. Whatever it is, it works.

This is where you really will find a most varied mix of people - the young come there to hang out because it isn't too expensive, couples have little private booths to themselves, socialites come here to meet other socialites, and rock-music lovers come here to take a break from the all-pervading assault of bubblegum pop. It's the sort of place where you can be sure of bumping into someone you know.

As social as the scene is here, 10 D is also popular for two other reasons - Karaoke nights on Thurdays and the pub lunch, a deal that all foodies swear by. For Rs 150 you are served a complete meal (Chinese, Continental, Indian), plus a complementary glass of beer or soft drink if you're there for lunch.

Celeb DJs, cricket-match screenings, and film stars dropping by to mingle, these are mainstays 10 D. This pub that shut down and shifted base from its Secunderabad home since the infamous prohibition, has doubled its share of regulars now. Most everyone drops in here at least once to catch up with old friends or just find out what the buzz is about.
LEAVE A COMMENT
fullhyd.com has 700,000+ monthly visits. Tell Hyderabad what you feel about 10 Downing Street - Begumpet!