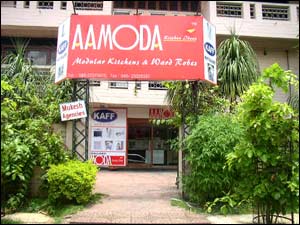 It was one of the first few commercial ventures on up-until-then almost entirely residential Road No. 12 Banjara Hills. Now, although it is one among the many modular kitchen stores that have since sprouted all over the city that has a thousand new families setting up kitchens every month, Aamoda has managed to retain a market for its wares.

They promise you none of the Italian design, the South-American rainforest wood, or the French maid usability. Instead, they are pretty clear about the fact that until last year, or even today in most homes, the kitchen is washed out very regularly with good, old-fashioned water. And that it might take more than a generation of mind shift to move from a concrete-washable cooking space to a be-careful-the-shelving-will-warp kind of a model.

Which leads us to the USP of this place, which is designing stylish modular kitchens with BWR (Boiling Water Resistant) plywood as opposed to composite ply or particle board, accomodating an older, already-built kitchen platform - and being highly competitive with the pricing.

Aamoda is a place that definitely has convenience on its mind - from its spacious storefront where the kids (and there mostly are with families looking for kitchens) can play about while the parents discuss their kitchen needs, to the fact that the establishment keeps open on a Sunday to accommodate busy working people (of course, with an appointment).

The merchandise is also surprisingly reasonably priced belying its upscale location. You can get 10 running feet of kitchen cupboards, both above and below the counter, for anywhere between Rs. 30,000 and Rs. 80,000. Then there is also the Aamoda lifetime guarantee for their products. Also, the store supplies wardrobes and fireproof safes (sensible but strange), in case you are in the mood for bedrooms as well.