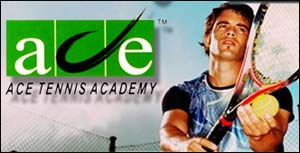 Rusty iron gates, a purani haveli with overhanging acacias, and a havaldar in ominously apologetic clothes make you do a double-take and go back out. But the sign still says Ace Tennis Academy, and a little girl with a tennis racquet skips past you in the scary Hindi movie scene. You decide to go for broke and walk in, and sure enough, a short walk away lie 5 beautifully maintained clay courts, and there's the laughter of children having a fantastic time.

Adjusting a girl's forehand and encouraging a heavy set boy to show some life is head coach Praveen Bhargava. You start talking to him to soon realize that he is a national level tennis player, and is supported here by a staff of 7 coaches. Ace aims to develop young talent, but adults are allowed to use the courts for 2 hours in the morning. About 4 children are coached by each instructor at a time, and the courts are divided into beginner and advanced levels.

Ace has coached many national level players including the likes of Sania Mirza, Uzma Khan and Hetal Parekh to name a few, and promises to deliver many more. Several young Ace trainees are now playing state and national level tournaments, and are competing favourably.

Ace is well-maintained, has experienced coaches and has a history of producing champion players, making it an ideal place to model your child into what you couldn't be.
LEAVE A COMMENT
fullhyd.com has 700,000+ monthly visits. Tell Hyderabad what you feel about Ace Tennis Academy (Tennis Courts)!