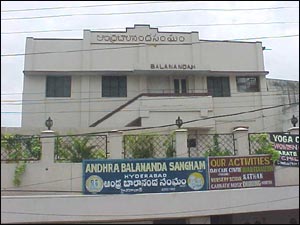 Started on the thought "to guarantee unadulterated children's entertainment", Balanandam was the dream mission of Radio Annayya and his wife Akkayya. During their lifetime, Andhra Balanandam Sangham was a children's den where informal and freeambience nourished talent and produced numerous high achievers in the field of film direction, music and theater.

Today, the Sangham is little more than a formal coaching class where your child can get training in music, dance and various other arts. The shift, an unfortunate one, owes its origin to the academic burden on both the children and their parents, as well as to the invasion of TV. Creativity, innovation and idea-generation, the bastions on which the success-stories ride, have sadly been given a backseat ever since Annayya's demise.

However, the present secretary Purnachandra Rao is devoting time and expense to revive the lost cause. The building which accomodates the Andhra Balanandam Sangham has been renovated, and is now equipped with 3 floors of multi-purpose large halls. Here, regular classes are conducted in Carnatic music, Bharatanatyam, and drawing and painting.

In addition to the above, the organisation also conducts an annual theater festival, where children from the twin cities participate enthusiastically. Interesting summer camps are conducted yearly to impart training to children in handicrafts, light music, drama and folk dance. There are also celeberations throughout the year, during festivals and on national days.

Over the years, the Andhra Balanandam Sangham has added on the facility of providing day-care to working mothers. Not very well provided for, this room has a shelf containing a few toys, and is serviced by 2 ayahs.

The premises, or rather the halls, are sometimes let out for private parties and meetings. This again is a direct result of the declining interest of the Generation X-ers who find interactive club-fun too slow in comparision with the Pokemons and the Tomb Raiders.

After molding three generations of Hyderabadis, this organization needs to reinvent and realign itself with the language and aspirations of the present day children. Its sights are set firmly on Telugu orientation, but Andhra Balanandam Sangham still requires a shift in its modus operandi, if this innovative movements is to be carried forward.

The classes at the Sangham are scheduled as:
Carnatic Music: Monday, Thursday, Wednesday and Friday; between 5pm and 6pm
Bharatnatyam: Tuesday, Thursday and Saturday; between 5pm and 6pm
Drawing And Painting: Saturday between 3.30pm and 4.30pm, and Sunday between 9.30am and 11.00am.
LEAVE A COMMENT
fullhyd.com has 700,000+ monthly visits. Tell Hyderabad what you feel about Andhra Balananda Sangham (Cultural Venue)!