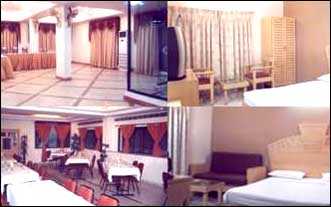 Standing quietly on the congested P G Road at the end of Paradise Circle, Annapoorna Residency appears frugally built, without any of the frills and snazzy interiors that adorn most hotels - even the budget kind - today.

A 3-storeyed, 27-room hotel, Annapoorna has each room having a minibar, a TV, wi-fi, a well-done bathroom, and some rooms with king-size and others with queen-size beds. Only the cheapest ones don't have minibars and king-size beds. Particularly impressive is the fact that the priciest ones (at Rs. 1,850) come with a king-size double bed and an extra queen-size single bed. Now, stuff like this lends respect to the term value-for-money.

The rooms may not have showy furnishings and decor, but the amenities they have are paisa vasool. Also, the ground floor has a multicuisine restaurant for the herbivorous, and a coffee shop.

Annapoorna Residency is a worthy budget hotel with the amenities of an upscale one, effortlessly leveraging to be decent, full-fledged and frugal.
EVENTS AT ANNAPOORNA RESIDENCY
There are no events at Annapoorna Residency scheduled currently.