Asian Lakshmikala Cinepride (Moosapet)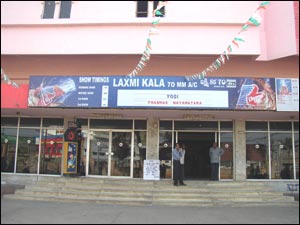 You should go to Lakshmikala to correct your body posture. The seats get you to sit upright, snapped at attention, for the duration of the film. Of course, what happens to your sit-upon later is another story.

There is good news, however, for the patrons of Maheshwari and Parameshwari: no parking hassles here. In fact, yours will be one of the very few vehicles in the lot. But ensure that you carry with you adequate change. The box office clerk insists on taking exactly, say, Rs. 30 from you four times if you were to purchase four balcony tickets. You explain that you can pay him the same amount with one 120 rupees note. Good luck driving that into his head!

As far as the basic amenities like toilets go, it has them. It is up to you to make what you can of them. Put simply, Lakshmikala one place you normally would not frequent unless the only criterion you consider before watching a film is the ease of availability of tickets.
ASIAN LAKSHMIKALA CINEPRIDE (MOOSAPET) SNAPSHOT
Listed In

Address

Telephone

Email

Seating Capacity

Air Conditioned

DolbyDTS

Tele-Booking

Year Started

Timings

Closed On

Prices

Rs. 60, Rs. 40, Rs. 10

3 users say this is wrong.

Payment Option(s)

Closest Bus Stop

Closest MMTS Station

Add New Field:
LEAVE A COMMENT
fullhyd.com has 700,000+ monthly visits. Tell Hyderabad what you feel about Asian Lakshmikala Cinepride (Moosapet)!