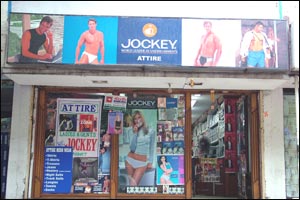 Good heavens, you seem to be in Undie Land! After a hot and dusty trip all the way to Punjagutta to come here, all you see around you is tons and tons of men's underwear. So much groin-wrap that you shudder to think about what 'inspired' this shop!

The Attire people are brand loyalists, you can say that much. And proud of that, too. Displayed prominently on their billboard is that the only brand of men's undergarments on sale is good ol' genuine Jockey. Jockey boxers, jockey vests, everything in Jockey... Of course, with the regular Jockey MRPs applying.

So that customers don't gag at just seeing only underwear all over the place, there are also trousers (with brands like Killer and Monte Carlo) ranging from Rs. 445 - Rs. 1,050. Not a great selection, though. Remember, these things are only ancillary to their main business of retailing underwear. Tantex undies are also available if you're not satisfied with the variety currently available (you sure must be one meticulous shopper if you aren't!).

What more can you say? A useless place for all womankind to shop in. But for the men, the widest range of undergarments available for them to buy. Go get some, guys.