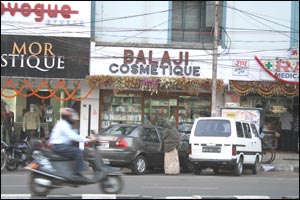 While it is considered appropriate etiquette to turn up neatly washed and groomed unless you confess to being an artist, it is becoming more and more imperative that you do it with imported products - the grooming, not the turning up. The burgeoning market for foreign brands has made it possible for the me-too shops to survive and even make profits.

Balaji Cosmetique is not one among them. It is a compact shop with tightly held standards of service, though its wares are not more or better than what you can find at other places. In addition to all the regular phoren stuff, it stocks shelves upon shelves of Indian reputed brands.

Its cache includes a range of products from Biotique, Garnier, L'Oreal, Jergen, Fruit Of The Earth and St. Ives; cosmetics by Lakme, Revlon Streetwear and Diana Of London; and perfumes by St. Dupont, Nike, Alfred Dun Hill, Diesel, Ventilo, Lanvin, Lacoste, Dior, Cartier and Ralph Lauren.

Balaji Cosmetique also keeps a wide assortment of haircare products including shampoos, conditioners and hair dyes. The available brands are Lambency, Clairol (Botanical Shine Shampoo), Vidal, L'Oreal, Silvikin, Pert, Jensens, Jovees, Finness and VO5. Soaps, face-packs, sunscreen lotions, fairness creams, hair oils and hair colors from Bigen, Revlon and Garnier, and face bleaches by Olina and Fem, are found in abundant portions.

In addition to providing you the best buys in town, Balaji also does not burden you with beauty advice. Though the staff is available in more than necessary numbers, they bear a look of interested aloofness. All the better, as you can savor the taste of burning your money at leisure.
EVENTS AT BALAJI COSMETIQUE
There are no events at Balaji Cosmetique scheduled currently.