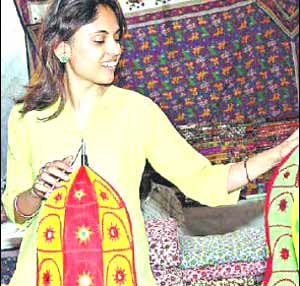 It is hard not to miss the Banjara Handlooms, unless you are ardently looking for it. But once you are able to place yourself inside the shop, you will notice that the effort was not wasted. This small shop, is a closet full of all that you can ask for, in terms of quality and price.

Though advertised as an export house, Banjara Handlooms has plenty to offer to the home front. If you were expecting a well laid out showroom, with exquisite and strategically placed display, you might like to end your sojourn then and there. But if you are not intimidated with the warehouse-look of this shop, you might find it useful.

At the Banjara Handlooms, you'll find bed-covers, priced between Rs. 295 and Rs. 600, and bed-sheets, single, starting at Rs. 250, and double at Rs. 350. There shelves full of bathroom mats, priced at Rs. 75, bedside runners at Rs. 500 and above, and some bags and purses. The bed sheets are durable but severely restricted in variety and even in numbers. In addition to these, there is a large collection of pillow-covers starting at Rs. 250, cushion-covers starting at Rs. 395, and an assortment of kitchen clothes and napkins.

Banjara Handlooms is also equipped to provide you with custom-made services for draping your doors, beds and even kitchens. There are some hand made boxes, dining table covers with napkins, and coffee table covers, all reasonably priced.

You might even find a couple of bedsides runners, apparently imported from Europe, and priced at Rs. 750 and above. With neatly stacked shelves, the shop has been laid out to facilitate the basics - browse and shop, without unduly playing on your visual or aesthetic senses.
EVENTS AT BANJARA HANDLOOMS
There are no events at Banjara Handlooms scheduled currently.