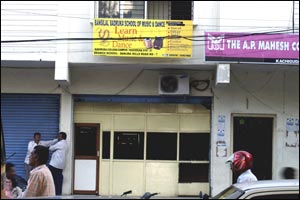 The Bansilal Badruka College Of Commerce is not exactly a fun place, unless you popped out of the womb manipulating numbers. But the saving grace is that right next door is a very energetic, fun-filled music and dance school that attempts to sneak some culture into the heads of the current wild lot of kids. And the best part is that they're succeeding.

Lest you thought the BB Dance And Music School had mundane motives, it offers nothing short of 'soul enrichment' for a pittance each month. The all important how-to lessons are given for Bharatanatyam and Kathak. Hindustani vocal training is also offered. Tinkering with the sitar, tabla, harmonium, synthesizer and guitar is also permitted. Each class has only about 10 to 16 students, leaving ample time and opportunity for the instructors to give individual attention.

If you live a good distance away, it won't be pleasant travelling down to Kachiguda. I could describe the traffic scenario at five in the evening, but it would simply be cut out by the censors. The location also isn't exactly upmarket - slums threaten to override the Badruka Campus, which has so far just about managed to keep its nose clean. So this ain't exactly your posh Jubilee Hills ambience, but then again, who needs glitter when you have the gold?
LEAVE A COMMENT
fullhyd.com has 700,000+ monthly visits. Tell Hyderabad what you feel about Bansilal Badruka School Of Music & Dance (Music Schools)!