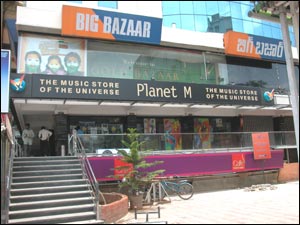 Despite the cost of living, it remains popular! Allright, poor jokes aside, the truth is that even fancy living needn't be expensive, if you ask the guys at Big Bazaar.

The store offers a one-stop solution to all your home needs. In fact, it fills up upto about 70% of a consumer's monthly purchases basket. Big Bazaar has almost everything under its vast expanse of three roofs. Atta, Dal, Chawal and the other absolute necessities; soaps, cosmetics and towels; shimmering stainless steel utensils; clothes and toys; footwear, linens, plasticware, electronics; and even snacks (chips, biscuits etc.) are all available here. The clothes here include shirts, T-shirts, Jeans, suits, sherwanis and even winter wear. You also have little baskets with socks and slacks mish-mashed into a noodle soup of sorts. Plus a little gaming section to keep the kids busy while you shop.

And at prices that absolutely shame the listed MRP. In fact, even as we write this they are running a campaign that if you find something sold for lesser prices anywhere else, they'll pay the difference. It's possible that they do not know that you will not travel all the way to Abids to collect Rs. 56.5 you saved somewhere else, which you will be given after you first spend 30 minutes to prove what you claim and then fill in some forms to be sent to head office for approval.

Almost everything that is available here is marked down. This is possible due to direct factory purchases, and also because the store has its own production line. It supplies grains (from its Premium Harvest) and it has its own clothing range (Shaila tops for women, Pink And Blue, DJNC; and now Ruff n Tuff manufactures exclusively for Big Bazaars around the country). Big Bazaar even manufactures its own toys and other kid-stuff.

The store attracts customers across economic sections. From the lower middle class to the rich, everyone seems to make a pit-stop here to pick up 'most everything they need. And gets Abids all crowded.
EVENTS AT BIG BAZAAR (MALLS)
There are no events at Big Bazaar (Malls) scheduled currently.