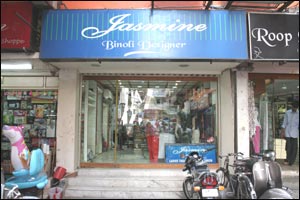 If you are looking for some nice salwar-kameez, ghagras or dress material, you should give Binoli a look. Situated in busy Chenoy Trade Center, this is a small boutique that houses some excellent pieces of work. You will find various fabrics such as cottons, synthetics, chiffons and georgettes lined up for you.

The clothes range from Rs. 1,000 to Rs. 10,000. Before you gag, there are good wares at the lower end - some simple salwar-kameez sets ranging Rs. 1,000 above, too. These are equally well-designed, and are quite comfortable to wear.

Trivia time. Binoli was named after the owner's younger sister. Designer Madhavi C has successfully opened many branches of her clothes boutique in India and abroad. This boutique itself is actually a branch of the one in Mumbai at Matunga. Now that store is over 40 years old! They also have had a boutique in Abu Dhabi for 5 years now, and intend branching into bridal wear soon. Since us Hyderabadi women need more exposure to this facet of marital life, their boutique will soon open in our city.

Trivia time ends. Shopping time begins.