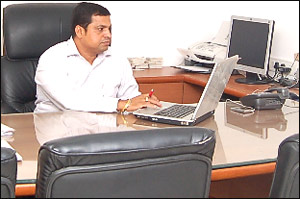 Vision:
Bounty Property Management Private Limited is envisioning to emerge as one of the leading property consultants in the sphere of construction in India. They engineer talent and skill-set to build state of the art structures for the clientele. They specialize in commercial properties.

Team:
K.Surendran is one of the pioneering promoters of the company .To his credit he is bestowed with more than 20 years of rich experience in the real estate industry. He has been instrumental in building landmark commercial complexes in Hyderabad. He is endowed with expert knowledge regarding land records, securing permissions for buildings, securing of construction materials, execution of building projects, various government approvals etc. In addition Mr. Surendran has mastery over public relations, people networking etc. Finally he is highly ambitious in providing ultimate customer care.

Mr. Mohan Kumar, a postgraduate in Business Management is the other promoter of the company. He has more than 10 years of enriching experience from renewed corporate giants. His forte lies in active marketing, maintaining back office systems and establishing corporate communication channels. Mohan Kumar is highly dedicated and committed to the cause of providing prompt and good quality service to the customers.

Objectives:
- To achieve a first class reputation to our company by catering to the myriad needs of clientele.
- To provide the best quality of realty services to customers.
- To strive hard in the direction of retaining existing clients and expanding our client base through a word of mouth publicity.

Our Glorious Past:
So far we have successfully provide realty services to scores of well known MNCs such as Levi Strauss, Dockers, Food world supermarkets, Heritage fruits, Fresh supermarkets, Mainland China and Philips.

We have sourced commercial properties in various parts of Hyderabad for more than 30 Supermarket outlets.

In addition we have been highly instrumental in sourcing a five-storey building for Mainland China right adjacent to Hotel Grand Kakatiya (the biggest property of Mainland China in India).

Action plans for the future:
We already pepped up with the achievements till date. We propose the following target oriented action plan for the next few years to come.

1. To expand our construction activity and realty services across the state of Andhra Pradesh and in turn create our presence firmly in Bangalore, Chennai, Cochin and Punjab.
2. To conduct regular series of in-house training for our staff members thereby increasing our productivity to an optimum extent.
3. To set up a more commodious and state-of-the-art office in the central business district of Hyderabad.
4. To improve the quality of our company website with more value added information so that our clients get to know the property choices available with us.
LEAVE A COMMENT
fullhyd.com has 700,000+ monthly visits. Tell Hyderabad what you feel about Bounty Property Management Private Limited!