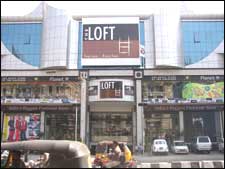 Set in the posh shopping locale of the city and spread over an area of 22,000 square feet, The Loft is not just Hyderabad's, but India's, biggest footwear store. Oh pardon me all over the place, foot care store.

The first thing that hits you about The Loft is its dominating structure. This 3-storey tall edifice will probably have you thinking that you could find shoes even for your goldfish. I mean, they have to fill all that space. The store has everything: the ground floor stocks women's and men's footwear, and foot accessories. Foot accessories is not just socks, but an entire gamut of foot care products, from pumice stones to insoles, scrubs, foot powders and deodorants. And this is just the ground level.

The next level stocks everything in sport and casual footwear. The store brags about being the only one of its kind to have a jogging track. A 160-feet long jogging track runs around the floor, where customers are free to run around and try out the shoe. More surprisingly, there are people who actually do!

The 2nd level houses kids', home and ethnic footwear. It also has a cobbler, a pedicure salon, restrooms and a music store. The restrooms are neatly tucked away into a corner so that you don't find them when you really need to. The store also has two shoe polishers who will shine your shoes without charging you a dime, and a visiting orthopedist. All kinds of people visit the store - from your regular akka-chelli crowd to the oh-my-god-jaldi-a/c-on-karo type.

Not your regular store. But, the best you can get for your foot. If they can hype such a small part to such a great extent, there has to be something to it, right?
LEAVE A COMMENT
fullhyd.com has 700,000+ monthly visits. Tell Hyderabad what you feel about Centro Footwear (Old Name: The Loft)!