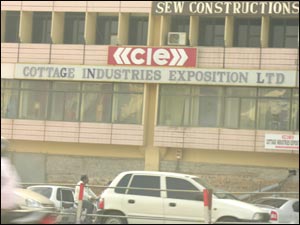 CIE is the most attractively set up emporium I've ever seen. It is spacious, the artifacts are displayed on metal and glass racks of contemporary design - plain enough not to detract from the objects on display, and smart enough to look good themselves - and there is an extensive range of items available. There are small marble sculptures from Agra, embroidered wall hangings from Kutch and Rajasthan, enameled boxes from Kashmir; the list is endless. The prices are steep, but the collection is so tasteful that you feel compelled to go through each and every item on display just for their sheer beauty.

There is a veritable treasure trove of antiques and fine art, and even the furniture available is of the show-stopping variety. There are solid wooden cabinets in an antique finish, wood and cane sofa sets from Jaipur, and quaint little side-tables, all of which can be conversation pieces in the modern home.

There is a varied collection of home linen - bedcovers, cushion covers, table linen etc. Some of these are definitely affordable for the average pocket. A table runner is available for Rs. 275, and cotton cushion covers start at around Rs. 175.

The range of furniture and home furnishings is wide, and it is impossible to describe the quality of the timelessness and richness of our Indian art and craft that permeates the store. The emporium is worth a visit just for this.
LEAVE A COMMENT
fullhyd.com has 700,000+ monthly visits. Tell Hyderabad what you feel about Cottage Industries Exposition Limited (CIE)!