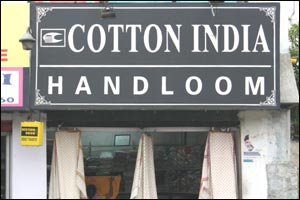 Started as Cotton India Boutique, this women's wear boutique has had good business in Hyderabad, and has now expanded into a chain of stores called Cotton India Exclusive, Cotton India Tailors and Cotton India Handlooms.

Cotton India Exclusive (my 'exclusive' favorite) has lovely white-based skirts. It also offers great quality nighties, Pochampalli dupattas, salwar kameezes and even parallel pants, a notable benefit of all being that they do not shrink one bit on washing. Very nicely priced Lucknow and cotton tops for women are available as well.

A possible reason why this chain of stores has good business is probably its great pricing. Skirts are sold at Rs. 280, with the Lucknow and cotton tops ranging from Rs. 125 - Rs. 290. There are even doormats available, priced upto Rs. 450. The only irritant, if you will, is the fact that Cotton India Exclusive has no trial room. However, the adjacent Cotton India Tailor shop jumps to your rescue in that regard, with a trial room of its own.

As regards the other links in the chain, Cotton India Tailors has designer tailors on its payroll. Rs. 100 for stitching, Rs. 150 if it's with lining and salwar kurta sets ranging upto Rs. 3,000. Should you decide to 'tailor make' your salwar kurtas, simply hop over to Cotton India Handlooms and buy yourself some nice salwar kurta material, ranging from Rs. 290 - Rs. 5,000.

Great prices and everything you get for them seem to be under one Cotton India roof (although you just have to walk a few steps to each adjacent shop). Everything is taken care of, from your materials to your tailoring to your readymades... really a time-and-trouble saving venture.