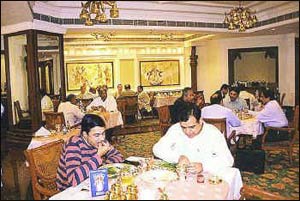 One of the things Dakshin is most famous for is that it sells appam and stew. Now, if you're a fan of this delicious combo from down South, you'll see why this is worth mentioning in the intro. A good plate of appam and stew is difficult to find, there are only around three other places that serve it in the city. And Dakshin has the best, most perfectly spiced stew of them all.

Like all 5-star speciality restaurants, Dakshin goes far out in terms of dcor. Everything here is designed to let you know that this is, indeed, a place with a South-Indian emphasis. Dakshin screams its theme through the paintings, pillars, and cutlery, looking, all in all, something like a wedding pandal. But this neither adds nor takes away from the fact that the food is pretty fabulous.

All four Southern states are represented in the almost dauntingly long menu, and it's all traditional from the word go. For example, you start off by sipping on buttermilk or vasantha neer, coconut water with a dash of honey and lime. Team that with a steaming hot banana dosa made from the "live" tawa counter, which also makes appam and idiaappam (both fermented pancake-like dishes from Kerala). Then you have a choice; you can either get the Iyer Special, a most sumptious thali, or go a la carte.

For main course, try the Majjiga Pulusu (buttermilk gravy), the Kodi Molagu (pepper chicken), the Kai Stew with fresh vegetables, the Meen Moilie (cubes of fish cooked in coconut milk) or the Royyala Iguru (prawns in a thick gravy). All these go great with coconut or tamarind rice, or with the Malabar parotha. If you're the mood for lobster, try the Kylara Thokku. Dessert is just as full of choices: Ellaneer Payasam, Pradaman, Basundi, Badam Halwa and other Southie sweets are on the card.

Dakshin is a good place to visit when you have a craving for all those delicate morsels that are just too bothersome to make at home. And look at it this way; eating here is slightly cheaper than buying a ticket to any of the places your meal came from.
EVENTS AT DAKSHIN (AT ITC KAKATIYA)
There are no events at Dakshin (At ITC Kakatiya) scheduled currently.
LEAVE A COMMENT
fullhyd.com has 700,000+ monthly visits. Tell Hyderabad what you feel about Dakshin (At ITC Kakatiya)!