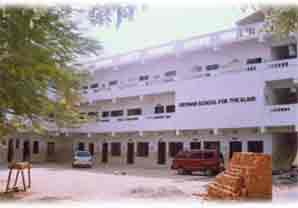 Background
Devnar School started with just four visually-challenged students, and now it is a platform for nearly 230 such students to realize their dreams. Founded by Saibaba Goud, an ophthalmologist, the school is just like any other mainstream school with a State syllabus, the only difference being that the students here use Braille as the medium of learning.

Activities
The school has classes from LKG to 10th standard. Upto Std 5, students are trained in Braille. Once they are proficient in the usage of Braille, they start their lessons.

"Our syllabus is exactly the same as the State syllabus, except that the lessons are taught in Braille," says the Principal of the institute, Lily Egbert. The school is equipped with a science lab, a computer lab, a library, and dormitories for the students. There are very few day-scholars at the school.

It is interesting to watch the students take their lessons at the science lab, as the lab is equipped with tangible models that are easy to touch and feel. The computers are also customized to these students' needs, and are fixed with speakers so the students can hear the commands. So if a student types out the letter "A", then he or she hears the letter being called out, and then goes on to type what he/she wants to.

The teacher-student ratio here is 1:15, and hence each student is guaranteed to get individual attention. Academic books are printed at the Foundation itself, and the medium of instruction here is English, although, like at any other school, students are also Hindi and Telugu.

Besides academics, interested students are also trained in cricket, chess, dance, and music, and in certain musical instruments.

The school has been appreciated at many levels. It has been the recipient of the Best Institute For The Disabled in 2002. Several students at the school have received the State Governments Pratibha Award for excellence in the class 7 and class 10 exams.

Volunteering Opportunities
Those interested to provide for the school monetarily can do so in the form of cheques, cash or DDs. Other than monetary funding, people are welcome to spend their time either reading out from text books or talking to students.
LEAVE A COMMENT
fullhyd.com has 700,000+ monthly visits. Tell Hyderabad what you feel about Devnar Foundation For The Blind!