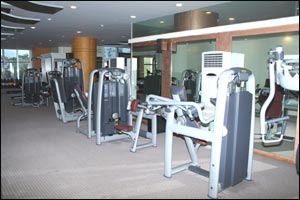 While it is considered appropriate and fashionable to workout, it is safer to do it in the presence of people who know the body business well. And who would be better versed than Azharuddin in the art of modelling perfect figures?

Though the man prefers to remain behind the scenes, his creation soars on. est is all about you and your green bills-a gym, a spa, a coffee and snacks bar, and a massage saloon. Once inside, you can just give yourself over to the est staff-from your bathing to feeding needs, everything is catered for.

The gym is spacious, with all the regulars like treadmills, stair-masters, cycles, a cross-trainer, a Smith machine, bench presses, a couple of Swiss balls and a few weights. There are also 6 trainers on call, so any irregularity in your schedule will have to be skipped.

But you'll find that even good health has its own hazards. When it has been determined that you are taking fitness seriously, you might be presented with the rate sheets. It will of course be immature for you to make a meek retreat, so beware before venturing in.
EVENTS AT EST (GYMNASIUM)
There are no events at Est (Gymnasium) scheduled currently.