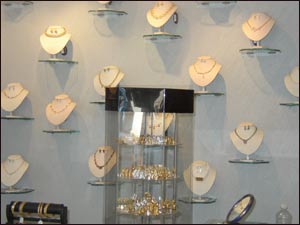 The best reason for going into a jewelry store is to buy jewelry. No, really. There are some stores, however, that will sweet-talk you into buying even if you're just there to browse or kill time. At Estelle, you will buy just because you CAN.

The prices here are unbelievably reasonable given the sophistication of the range. The earrings, necklaces, sets and bracelets are all very comtemporary and very urban. They fit perfectly at work or on an evening out. The jewelry is all made on a white metal base, and a range of pieces is also gold- and silver-plated. Earrings start at Rs. 50, necklaces at Rs. 175, and the prices range from Rs. 50 to Rs. 4,000. And almost anything you buy will look more expensive than it is. How often does that happen?

Helpful and forthcoming staff, a nice ambience, and a hassle-free shopping experience: that about sums up Estelle.