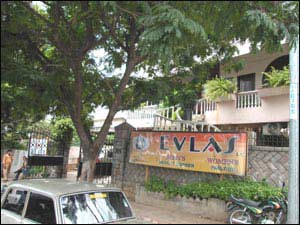 Evlas is the only beauty parlor in town that started out solely for men; and it is owned by a man who wears a dhoti and has a Masters in Social Work. That's Evlas in one line.

Evlas was started by C H E C Vidya Sagar as a beauty parlor for men, because he felt that men were constantly exposed to other people and needed to be well-groomed and presentable. Deeming himself the pioneer in this area, he then firmly believed that men, when compared to women who spent most of their life within the four walls of their kitchen, were continually under the scrutiny of others, be it business or play.

Before you feminists out there start puffing smoke out of your ears, consider that he talks of a time more than 10 years back. If it makes you feel better, I'll add that eventually he opened sections for women in his beauty parlors, too.

According to Sagar, this is his way of serving people... by indulging people's vanities and, as a result, their self-respect. And over the years, there are hundreds he has helped this way; a very bizarre Good Samaritan. Of course, he adds that in the process of doing so, it is never debasing to fill your own coffers a bit.

Sagar insists upon separate sections for men and women - and male staff for men and female staff for women. For he believes that anything other than this arrangement is a form of semi-prostitution. He also maintains that the specialty of his beauty parlor is its transparency and absence of any gimmicks (like weight loss, complete change of appearance etc.). According to him, they simply help you explore your own hidden beauty.

A businessman to the core, Sagar insists that his prices are low; so much so that you might begin to rethink your entire budget for the year, because of the sudden insight that you have been following a saint's life until now. The parlor charges around Rs. 70 for a haircut for men and around Rs. 95 - Rs. 150 for a haircut for women. Its facials are from Rs. 250 to Rs. 600.

The only explanation to his antediluvian ideas can be that he was born in a tiny village in Guntur. And he has worked his way up to 4 beauty parlors in Hyderabad. His other branches are in Paradise (only men), Indira Park and Srinagar Colony.

Whether his assertion of his low prices and utmost hygiene is true, and whether he is truly serving people or simply his treasury, this parlor is soaring in its popularity. And that speaks much louder than words.
EVENTS AT EVLAS BEAUTY PARLOR
There are no events at Evlas Beauty Parlor scheduled currently.