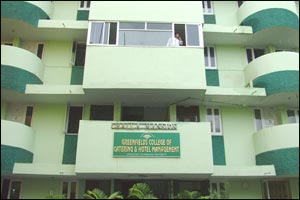 Greenfields College is like a quaint little hotel by itself. The uniformed students carry themselves with the characteristic humble haughtiness that makes us feel like kings and queens in swishy restaurants. Their mannerisms are typical and absolutely charming to watch. Impeccably behaved, they will almost absent-mindedly open doors for you, and always manage a genuine smile. Here is where you can see the raw material for an Oberoi or a Taj, almost in the finished form.

It's something else to walk in here from other graduate schools. No noisy, heckling droves of boys and buzzing hives of girls. Instead, there are little black and white, clockwork-toy like boys and girls, spinning around in an enchanted toyland. And the classrooms are miniature recreations of restaurants, front offices and kitchens of regular hotels.

Greenfields has a neat little restaurant with small tables and checkered table-cloths, and a window-sized bar in the corner where students learn to churn up cocktails. The baking class lets off warm whiffs of hot vanilla and flour, while the basic kitchen looks as purposefully compartmentalised as a regular chemistry lab. The quantity kitchen is where larger servings of food are made.

Placements at Greenfield are excellent, with the Oberoi, Taj and ITC groups being regulars. Most students end up going abroad in a year or two. College fests take the form of competitions and stalls at major hotels where students churn up tongue twisters like Kuzimuttaurla curry and Moorangya theyal (Keralite cuisine). On the whole, they are taught a dozen cuisines, whether Awadh, Punjabi, Continental or Kashmiri.

The 250-student college is completely under closed-circuit surveillance cameras. If that is the reason for the extraordinary discipline, you can't be sure, 'cause you won't find them cribbing. The students here say that the college becomes like a family once they join, and they are freaking out every moment of it. It's definitely not hard to believe that, with the heavenly smell of baking wafting into your nostrils!

Within three years, the degree students specialise in one of four functions: front office, food production, food & beverage service, and housekeeping. With that they enter hotel management, and that's where you and I come in.
LEAVE A COMMENT
fullhyd.com has 700,000+ monthly visits. Tell Hyderabad what you feel about Greenfields College Of Catering & Hotel Management!