Hotel Tureeya Grand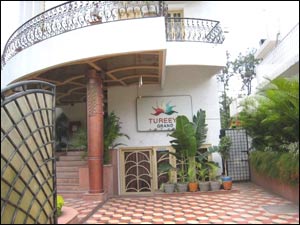 Some of Hyderabad's hotels have mushroomed due to the spiralling need for accomodating the growing band of the travelling company personnel. Tureeya Grand, with its very homey feel, indicates its guesthouse beginnings quite unpretentiously.

Set in a green, leafy bylane off one of Hyderabad's busiest junctions, the hotel is ideally located for someone who dislikes spending time in traffic when entering or leaving the city. Barely a kilometer from the airport and walkable distance (with a suitcase) from the Secunderabad railway station, this property sits in on some prime real estate. As with the public spaces within the hotel, the rooms are also comfortably complacent in nature, with none of the brash aggressiveness of younger, smaller places.

Neat, functional rooms, clean, wholesome meals and alert service mark Tureeya Grand as a reasonable place to stay.
HOTEL TUREEYA GRAND SNAPSHOT
Listed In

Address

Telephone

Email

Distance

Website

Sub-Categories

Other Categories

Price Range

Features

Year Started

Timings

Closed On

Payment Option(s)

Other

Closest Bus Stop

Closest MMTS Station

Add New Field:
EVENTS AT HOTEL TUREEYA GRAND
There are no events at Hotel Tureeya Grand scheduled currently.
LEAVE A COMMENT
fullhyd.com has 700,000+ monthly visits. Tell Hyderabad what you feel about Hotel Tureeya Grand!