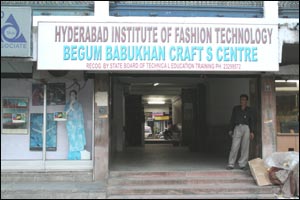 It is not exactly a salubrious walk to the Begum Babukhan Craft Center. There are factory storages and godowns along the way, workers keep shuttling in and out, the path is punched with puddles of water, and it's a general art movie theme. All other such beginnings that you have read finally culminate in how at the end of it all you have a totally unexpected place, a lotus amidst the gunk. Unfortunately, the salvation here is just a small dingy place in a cellar, that a few women run.

The Begum Babukhan Craft Center was set up in memory of Begum Abdul Karim Babukhan. It is more like a summer school for kids where a variety of things are taught - the only difference being the age group of the students here. The courses include:

Short Term: Hand Embroidery, Machine Embroidery, Zig Zag Tailoring, Hand-Knitting, Baking, Cookery (Veg/Non-Veg), Mehndi Design, Personal Grooming, Advance Make-Up, Advance Hairstyle

Long Term: Fashion Designing, Professional Beautician, Dress Design

Crafts: Tatting Lace Work, Flower Making And Bouquets, Ceramic Painting, Fabric Painting, Aluminum Foil Work, Soft Packing

The Begum Babukhan Craft Center works all around the year, and has been around for over couple of decades by 2005. There are different people to teach different courses. The faculty, administration and the students are only women, with a large majority belonging to the Muslim community.

There are about 20 students training here. They are given certificates at the end of the course. Facilities are provided for the trained girls to produce items for commercial sale. The classes last for about 3-4 hours.

The place is primarily an opportunity for household women to constructively occupy their time, with there being something for everyone. And in closing, these people themselves need a course titled Selection Of An Appropriate Place To Open A Learning Center For Women.
LEAVE A COMMENT
fullhyd.com has 700,000+ monthly visits. Tell Hyderabad what you feel about Hyderabad Begum Babukhan Craft Center!