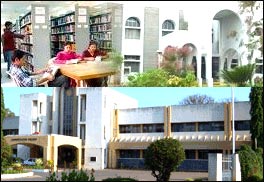 The "Golden Threshold" unit of this library is special with its titles on performing arts, fine arts, folk studies and communication studies. For all other disciplines, you need to travel to the university campus. It's a journey worth the pain, with beautiful scenery all along the road, especially the Golconda Fort.

And once you reach the library, you stop regretting the long distance. Unlike other libraries which terrorize you with rules and regulations about outsiders entering its premises, the librarian here straightaway informs you that on special request, outsiders are also admitted for a short period for conducting research through the written permission of the librarian, which is a reasonable enough condition. Moreover, public and private sector undertakings are offered institutional membership against a membership fee and can avail of the library facilities for reference. The alumni too are not forgotten the "out of university, out of library facilities" way. Against a security deposit, they are allowed to borrow books.

The library lays claim to the distinction of being the first university library in India to computerize all its activities. Moreover, it was the first library in the Indian academic world to provide OPAC computer terminals to users with network access across the campus-wide LAN. A person who has to leg it twice to a library just to locate a book, in the process receiving real lax attention from the bureaucratic library functionaries, can understand how much mental and physical energy thus gets conserved. This reader-friendliness, perhaps, influenced the National Board of Higher Mathematics when it accorded this library a "Regional Library" status.

The library collection includes 2,42,000 books, 750 current periodicals, dissertations, and several CD-ROM and Multimedia products. It also has a good collection of 16mm educational films in sciences and arts. The SC/ST book bank with its collection of textbooks adds a socially conscious touch to the pursuit of knowledge via the automation way.
EVENTS AT INDIRA GANDHI MEMORIAL LIBRARY
There are no events at Indira Gandhi Memorial Library scheduled currently.
LEAVE A COMMENT
fullhyd.com has 700,000+ monthly visits. Tell Hyderabad what you feel about Indira Gandhi Memorial Library!