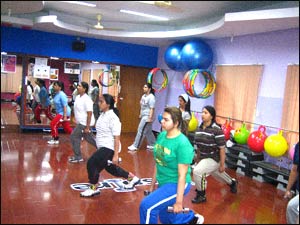 Inspire is a professional fitness club for ladies located in Abids. A 100% devoted group of fitness professionals dedicated to improving the lives of women.

Established in April 2007 to serve the fitness needs of women, they provide a safe, efficient and effective workouts targeting weight and fat loss, muscle toning, flexibility training which will enhance one's functional life in an environment that's comfortable and welcoming. Great music, great workouts, and a great way to stay motivated to reach goals with the help of expert trainers. One can ask questions, get fitness advice, learn proper form and technique, get some new ideas, and enjoy the interaction with others who have similar goals. One can undergo partner drills, core training, dynamic resistance exercises, balance training, team drills, interval training and much more.

Inspire believes that moderate lifestyle changes such as improving food choices and getting more physical activity can have a significant impact on health. They encourage people to stay healthy for life, especially in the ever-increasing stress of modern lives. They also encourage all to strive for greater amounts of physical activity to gain advanced protection against "inactivity-related chronic diseases".

Inspire's recommended program, which is a combination of cardio strengthening, muscle toning, functional training, stability ball training (which is essential for balance) meditation and stretching, shows benefits in a short period. You will likely see an increase in flexibility by elongating muscles and increasing joint range of motion, tone muscles without bulkiness from being repeatedly stimulated with your own bodyweight and hand held weights, improve circulation, create a stronger more flexible spine, enhance mobility, agility and stamina, develop functional fitness for daily life, and have an overall improvement in how your body looks and feels. In the presence of soothing music and qualified and caring trainers, the reduction in stress symptoms, tension relief, and energy boosts through deep stretching and meditation that is a benefit that is undeniable.

So if you are looking for experts who can guide you to achieve sound health then call Mr. David Jude at 93911-34128 for an appointment.
LEAVE A COMMENT
fullhyd.com has 700,000+ monthly visits. Tell Hyderabad what you feel about Inspire - Professional Fitness Club!