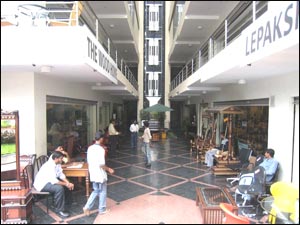 Located firmly in the middle of the city that Hyderabad was about 5 years ago, Interior Park brings to Abids that certain flavor that is essentially nouveau riche. Of course, there are other newly opened stores like the Reebok showroom just down the road, which add both interest and parking pains to this nouveau state of affairs.

The 40,000 square feet showroom that houses almost all kinds of items of furniture that can be perceived of, sits, quite incongruously, bang in the middle of Nampally Station Road. You can find Burma teak furniture manufactured in Rajasthan, leather contemporary stuff imported from Malaysia and Sri Lanka, antique mirrors and lazy boys as the one owned by Joey of "Friends" fame, rocking chairs, Spanish bars, outdoor furniture, kids' bunk beds, office chairs, entertainment centers... basically anything that you might be looking for, and then some.

While the management seems to have spent a minimum on fluffing up the place, the wares are irreverently and unapologetically expensive. The sofa sets start at around Rs. 1 lakh, and more or less remain there. The leather sofas are slightly cheaper, but then the quality of the leather is clearly suspect.

The furniture mall can almost unambiguously be divided into 2 halves - the contemporary side houses the leather sofas, the kids' room furniture, the roll-out beds and like, while the other side stocks those aforementioned lakh rupee sofas, addressed as 'Sher-e-Punjaab'. (No, that's really the name given to one of their 3+2+2+2 sofa sets, priced at Rs. 1.65 lakhs).

Some of the other things that can be bought here to complement the basic furniture are wooden blinds for that just-returned-from-abroadlands look, and something that is called Field Turf - a synthetic grass lookalike product that can be installed for Rs. 300 a square foot and requires no maintenance.

On to the dining and bedroom set floors. Almost nothing on these floors can be bought for less than Rs. 30,000, and almost nothing here does not resemble a house depicted in one of them saas-bahu K serials. In fact, you would have to order a 4-seater dining table specially as there is precisely one piece on display. Perhaps this would be the management's way of trying to bring back the joint family system, albeit a rather modern one which would use a Lazy Daisy instead of a pallu-covered bahu.

The upper floor displays some office furniture, best suited to the scions of those very same families. Unfortunately, many of the 'throne-like', plush chairs remind you of Shrek looking over Lord Farquaad tower and commenting on its implications.

Towers and chairs aside, Interior Park is a well-stocked place where you could go en famile to buy furniture for the entire house in one fell swoop - astro-turf et all.