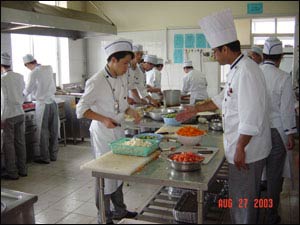 Students are indeed a breed apart. Think about it. They pay obscene money to endure a full gamut of "teaching" conditions, excuses for infrastructure, money-hungry institute managements, language barriers (yeah!) and, not least of all, each other. You might think you could see no more, till you bump into Hotel Management students at the IIHM. They have to, in addition, endure amazingly weird culinary preparations and simulations in amazingly malnourished labs and, the worst, try them out on each other.

In association with Setwin and Ambedkar University, IIHM boasts of having churned out 2,500 graduates / diploma holders in 7 years since inception (as we write this in 2005) from its five branches. The control center at Dilsukhnagar runs two batches a day with twenty odd students in each batch. With claims of quite a few' admissions into two of the four 5-star hotels in the city, and more than fifty percent admissions into the remaining prominent epicurean concerns, internships and placements here are publicized to be on the high. But with no supplements to affirm the claims, it's no wonder that IIHM is left on the dry.

Pleas for a rendezvous with some old students and faculty go in vain. All you want to do is know your future prospects with IIHM from the faculty, and not the receptionist wearing plastic gloss on the lips with a plastic smile. Try telling them that!

Some amount of goading gets you onto a tour of the "labs". Just two classrooms and three pint-sized labs with inadequate amenities, make a feeble impression. Being located on one of the busiest streets of Dilsukhnagar with little elbow space doesn't help IIHM's cause either. A part of the institution is accommodated in a diminutive set of a shopping complex, and the rest in another compound a few yards away. Inadequate parking space and a woefully stained staircase only add to the despair.

This said, we are still praying for IIHM. Praying they are prominent on the list of the Education Reforms Commission.
LEAVE A COMMENT
fullhyd.com has 700,000+ monthly visits. Tell Hyderabad what you feel about International Institute Of Hotel Management (IIHM)!