Kalaniketan Wedding Mall (Clothing)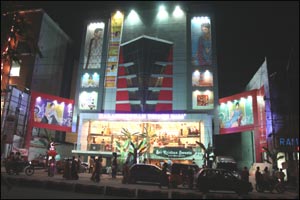 You are traveling down R P Road at the excruciatingly slow pace that is impossible to maintain anywhere else. In your peripheral vision, you see this monster of a glass facade. Yes, you just cannot miss this store. It is HUGE, written like that.

What does Kalaniketan sell? In a nutshell? Everything that resembles nine yards of elegance and grace. Practically every type of sari that the AP woman may want is sold here - Pochampally, Gadwal, Mysore Silks, Cotton, Synthetic, anything. It also houses a pretty large range of salwars, ghaghras and dress material. Some imitation jewelry is sold here, too, but they are not ones that would engender any kind of excitement in you.

Spread over two floors, the store does give you the comfort of space. Even if there are too many people around, which usually is the case, everyone manages to find a safe corner to retreat into. The sales staff is not over the top, and that is a fast disappearing breed in this city.

It has branches in Vijaywada, Hyderabad and Secunderabad. Also in the US and the UK. But most of all, Kalaniketan has what you need at a price you can afford.
KALANIKETAN WEDDING MALL (CLOTHING) SNAPSHOT
Listed In

Address

Telephone

Fax

Distance

Sub-Categories

Year Started

Timings

Closed On

Prices

Payment Option(s)

Other

Closest Bus Stop

Closest MMTS Station

Add New Field:
EVENTS AT KALANIKETAN WEDDING MALL (CLOTHING)
There are no events at Kalaniketan Wedding Mall (Clothing) scheduled currently.
LEAVE A COMMENT
fullhyd.com has 700,000+ monthly visits. Tell Hyderabad what you feel about Kalaniketan Wedding Mall (Clothing)!