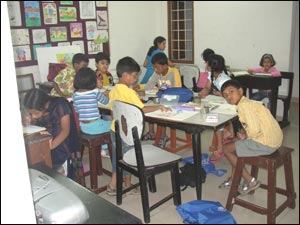 To be able to begin with a line and eventually create the world - that is what Yasmin Sharath Koka, the founder of Lakeer, believes in. And the impression her painting school leaves on your mind enthuses you to believe it, too.

Careening towards the outskirts of the city, Lakeer subsists in a three-roomed apartment - bright, airy and colorful in all aspects. It completely lives up to its reputation of a painting class, with paintings strewn all over, people bustling about with their unfinished artwork, World Space music filling the silences in the background, and our little instructor patiently moving from person to person, assisting them, laughing with them and inspiring them. There is also a cupboard full of art magazines in one corner, to help the painters pick their subject matter. These are how the classes are held for adults at Lakeer.

But if you are anything above 11 or 12 years of age, don't venture anywhere in the vicinity of this place on a Saturday. For on Saturdays, this peaceful palette of colors turns into a noisy, unfathomable riot. It is the day that the kids get around to painting at Lakeer.

Yasmin's method of teaching them all, the little kids and the big ones, is to begin with basic drawing skills and to gradually get on to drawing more intricate themes. This is no hobby painting course to help fuel your undeserving vanities - it is a systematic course with tangible milestones, and that's why it stands apart from all the other art courses in the city.

Also, every summer, from the 15th of April to the 31st of May, Lakeer conducts classes for children, from 10am to 12pm, on all days except Sunday and Wednesdays. That is 1-1/2 months of pure creativity for Hyderabad's budding artists.

Since there are always 12 or even lesser people in a class, Yasmin gives each person individual, undivided attention. And believe me, her satisfaction and her enthusiasm are as contagious as her laughter. In fact, anybody who enters her domain is bound to leave a happier person.

So, Lakeer sums up to good company, good music, good laughter and some good artwork... And as a bonus, you get to finally find out what lies at the end of the rainbow.
LEAVE A COMMENT
fullhyd.com has 700,000+ monthly visits. Tell Hyderabad what you feel about Lakeer School For Painting (Business - Commercial)!