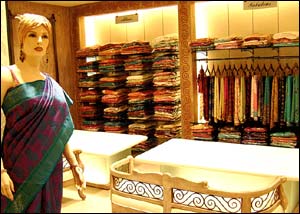 Hyderabad comes across mostly as a traditional, laidback town with the Nawabi culture interspersed in the everyday life of the common folk, and while this may still be true in some precincts of the city despite the pervasion of the culture-gobbling globalization, there are locales that are style-savvy. Banjara Hills is the most prominent of these, and furthering its case is the fashion boutique Le Celebre, which is French for "the famous". And it seems destined to be.

The facade showcases a modern, glass 4-storeyed building with impeccable decor made snazzier by deft lighting. The main floor comprises primarily menswear, flaunting fashion houses like Gucci, Armani, Cavalli, Hugo Boss, Abercrombie and Calvin Klein, apart from the regular local brands like Zodiac and Louis Philippe.

The deal of the sprawl here, however, is the immense casual collection the store has, in Jeans, tees, shorts, cargos, khakis, sweaters, shirts... all priced surprisingly reasonably considering they are all designer. One Cavalli Jeans was around 2000 bucks. The last time I checked, it was 400 dollars in Canada. This made me go all quizzical on the staffer who candidly informed that they are authentic and have been imported from a European sale.

One miss though is the conspicuously absent all-time rage, the classic Polo tee. We don't ever see any live man without one do we? There are no undergarments, either. About time more designer boutiques concentrated on the bare necessities.

On the flip side, there's a separate section in the same floor featuring suits and jackets that are tailored with old-world workmanship sporting modern details like slim fits and colored buttons. The range is Rs. 1,500 to Rs. 20,000, and includes both local and designer labels.

Le Celebre's ties, scarves and pants are equally as fresh; the colors and patterns are lively, never losing their elegant feel. There are also both casual and dress shoes by a host of designers, most notably Gucci, that are priced from Rs. 2,000 to Rs. 20,000. And making our men complete are accessories Le Celebre considers special: designer cufflinks, wallets by Hugo Boss, Armani and Gucci, and shades by Armani, Gucci and Prada (all Rs. 3,000 and upward).

On the ethnic front, there are stunningly elegant and ornate sherwanis (Rs. 3,000-30,000) with matching turbans (Rs. 1,500-5,000). Ethnic footwear comes in the range Rs. 800-5,000. Men's ethnic wear is housed in the basement.

The 1st floor accommodates women's clothing that's purely ethnic, with scintillating ghaghras (Rs. 2,000+), stylish salwars and graceful saris including some jewellery, while the 2nd floor is graced by women's Western wear showcasing show-stopping dresses, sophisticated skirt suits and lady-like silhouettes, besides cocktail-perfect frocks by modern labels such as D&G, Gucci, Valentino and DKNY. Standout pieces include a lace mini T-shirt dress threaded with silver, a crumpled black leather shrug, and clingy gray and white sweaters with skull prints.

There is a decent but sexy collection of Jeans, both local and couture, that come in all shapely forms from low rise to plus size, priced Rs. 1,500-10,000. The handbag selection is wide with offerings like leather, clutches and fabric (Rs. 1,000-15,000). In short, this store has a little bit of everything to satisfy any kind of girl. The store also has customized tailoring, ensuring immaculate-fitting clothing.

Le Celebre is celeb fashion made accessible, easy and affordable, and is a worthy visit even if for mere window-shopping.