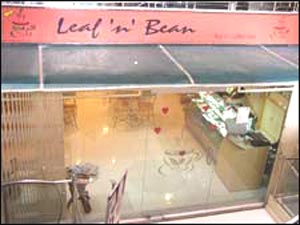 Evidence that a good name does not a good coffee shop make. On the face of it, there's nothing wrong with L 'n' B - it's spaced out nicely, got a couple of interesting things on the menu, and is located near a busy shopping area - but something in the formula doesn't quite work. And now with Coffee Day taking over the neighbourhood, it's going to take a serious rethinking of strategies for this place to survive.

L'n'B does have a couple of USPs, though. First, it has a smoking area, which you won't find in most other places. Second, it takes its teas seriously. The traditional East-Asian Tea Tarik and the ginger-flavoured Tea Aliya do well here. Also, it offers rum, whiskey and brandy flavoured coffees, with the Columbian Cappuccino.

There's not much else to get excited about in the coffees however, and you're better off sticking to the regular Cold Coffee or Cappuccino. They have a special range of Ice-Blended beverages like the Banana Fiesta and Sunshine Orange. These drinks are also available in peach and apple flavours.

Eats are limited, but the Veg. Frankie and Roll are alright, as are the desserts, most popular of which are the Chocolate Truffle and the Doughnut.

One of the problems with this place is that it hasn't enough energy. Since coffee shops are usually geared to attract young people, it would help if L'n'B got more creative at making the place come alive. Not by aping other more successful places, but, perhaps, by finding a character of its own.