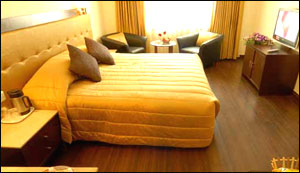 A central atrium full of light and air around which the rooms are set is the single most striking feature of Leo Continental. Given that modern buildings place such a high premium on natural light, Leo Continental has quite a quintessentially avant-garde flavor. Be it the atrium concept, or its hip wooden flooring in the even more hip restaurant Gusto, Leo Continental definitely has an exuberant youthful temperament.

Carrying forward this contemporary vision, this may also well be one of the few hotels in its class that offer a single room with a single bed, no chair and hardly standing room, for the overnight guest who just needs a bed to sleep on.

However, on the other side of the spectrum they will lay it all out for you in their suites should your tastes happen to run that way, with silk bedspreads, ornate curtains, a plasma TV, cookies and fruits to woo the most jaded leisure traveler. The meat of the matter, nevertheless, lies somewhere in between. At the end of the day, Leo Continental is able to deliver a clean, wholesome atmosphere, with careful service, thoughtful facilities and a gratifying resto bar for the discerning visitor.
EVENTS AT LEO CONTINENTAL
There are no events at Leo Continental scheduled currently.