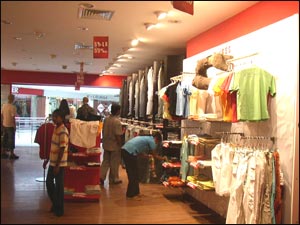 If you are not a pioneer - a person who does not speak his/her mind, makes some noise or change the culture we live in - you are not worthy of a pair of Levi's Jeans. You can choose to take offense to this irreverent writing on the wall (it literally reads, "Our Jeans have always been built for pioneers, past and present. People who speak their minds, make some noise, change the culture we live in...") of the latest Levi's outlet in Hyderabad and bite the collective heads of the contrastingly polite sales staff (heads will roll!), or do what teenagers, adolescents (Levi's main cultists) do best - let the uncool attitude slide like water off a duck's back. Because being uncool is what is cool here.

This philosophy echoes in this small store's decor - brazen in trademark red, white and blue - and obviously in its casual wear, too. A prime example hangs loose on the rack - a fashionably soiled tee in the men's section that boldly spells, "Surf". You may as well - the tee looks desperate for a wash.

However, if wearing cheeky tees is not your thing, then you could buy garments with more utility; a tough cotton, round-neck tee - a Levi's signature - with tonal threading (available in various colors, from pastel shades to navy blue, black) that can be teamed with a pair of stonewashed, boot-cut Levi's Jeans, or a multi-pocket pair of comfortable cargo pants (available in colors such as grey, olive).

Or pick up a soft collar tee (available for both sexes, like most garments in Levi's), a pair of classically tailored pants, a denim mini-skirt. Or fit your booty into one of their world-famous, and world-class, blue Jeans (never mind the aforementioned scrawl on the wall) - maybe a 501 original, if your tush is lucky enough.

Like other Levi's outlets in the city (there are at least three others, the biggest one being the Levi's at Madhapur) this one too is big on Red Loop, a Levi's premium collection. The price tags on garments here are labelled with figures between Rs. 1,499 and Rs. 3,799, for both sexes. Their unisex accessories range - mostly caps and bags in denim stamped "Levi's" - cost approximately Rs. 400 apiece, if not more.

Any Levi's Jeans that you purchase can be clipped here as well. As for the attitude, well, that's clipping enough.
EVENTS AT LEVI'S (CITY CENTER MALL)
There are no events at Levi's (City Center Mall) scheduled currently.
LEAVE A COMMENT
fullhyd.com has 700,000+ monthly visits. Tell Hyderabad what you feel about Levi's (City Center Mall)!