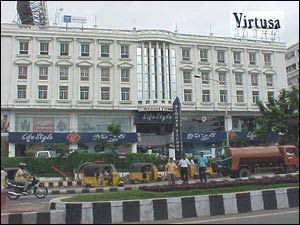 Apart from being the place that the girls of St. Francis change at before entering college and again after leaving it, Lifestyle has other claims to fame, too. For starters, it is used to give directions to any place its vicinity ("Do you know Lifestyle? We are just 12km from there." Or, "You're at GPO? Okay, first reach Lifestyle, go to Abids from there, and then ask anyone where Ramakrishna 70mm is."). Then, it is used for comparing and contrasting traffic conditions ("On a scale of 1 to 10 where the traffic jams outside Lifestyle at 7pm are rated 52, how bad is the jam you're stuck in?"). Of course, it's also known as a department store.

Set in 50,000 (yes, that's four zeroes) square feet, Lifestyle is, to put it mildly, HUGE. And like you must have made out by now, a landmark. The store houses all its merchandise in five concepts. There's apparels, health and beauty products, home and furnishings, footwear, and kids products.

Lifestyle has its own line of clothing called Splash which is rather popular with the junta around. But the store also houses other leading brands like Pepe, Levis, San Frisco and Allen Solly, to name a few from among a whole gamut of other stuff. It also has it own range of footwear apart from leading national and international brands.

Lifestyle has a Music World outlet to take care of almost all music requirements of the vinyl and plastic kind, and it has a Qwiky's to douse fires in the stomach caused by hunger pangs. Its home furnishing section is an amazing store-house for creating wonder-homes. The crockery, cutlery, furnishings and decoration pieces all possess a character of their own. The question is never going to be whether you will love them, it will be whether you can afford them. And if you can, then BUY!

The book section in Lifestyle is a youngster's delight. Almost any new best-seller can be found here. It also has an impressive collection of the classics, and of reading material for children.

The place is perhaps the last word in cosmetics in town. You can find almost any leading brand of perfumes, deoderants, personal care and jewelry here.

So, what sets Lifestyle apart? Sure, it houses everything except groceries, but the real clincher is this - the best formal wear for women, in the city.

Lifestyle is one store that has an arm and a leg sticking out anytime you go there. Its parking is usually brimming and then overflowing. Treat that as an indication of the store's popularity.
EVENTS AT LIFESTYLE (CLOTHING)
There are no events at Lifestyle (Clothing) scheduled currently.