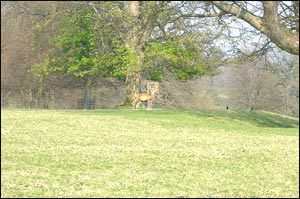 Pristine wilderness dotted with an exhaustive splendor of floral and faunal ecstasy ranging from Black Bucks and bison to peacocks and 120 varieties of exquisite birds: If you are in Hyderabad, chances are that you have missed this fun-filled safari into the wild world of Mahavir Harina Vanasthali National Park.

Yes, welcome to the sublime side of jungle!

Located just after the 15th milestone from Secunderabad Railway station on the Vijayawada Highway, the park is a home to over 1,200 Black Bucks, Chitals (spotted deer), and an ever more number of birds and animals. But then, the place is not without history.

Circa 1975, the national park took its name from the Indian Saint Lord Mahavir, and was started primarily as a Black Buck conservation area. And before that, the park was the favorite hunting ground of the Nizam rulers, little wonder though.

Spread across a sprawling 3,605 acres, the park serves a good place to unwind during those leisure weekends. Once inside the park, you will be on a guided-tour in a miniature bus, accompanied by the 2 most experienced people there – Laxmidas and Satthaiah. And all through the 45-minute safari, you will live what you have only seen on the National Geographic – Black Bucks grazing away to glory, tender Chitals springing across trees, and porcupines and mongoose scurrying into shrubs. By the way, did you know that the Black Buck is AP's state animal?

Wondering about the Chital? "This is the very deer that attracted eyes of Mother Sita, who later sent Lord Rama to fetch it. And then began the epic saga of Ramayana," explains Laxmidas, who has been serving the park since 1975. As your bus takes twists and turns along the dirt beaten road, you will see peacocks perched with eager eyes and bright plumes.

And suddenly, a cool perfume crosses your face, thanks to the lavendar trees. Queries Satthaiah, "Sir, can you identify which bath soap uses that fragrance?" Before you can shrug, Satthaiah will keep your eyebrows raised with his knowledge on deer, antelopes and the animal discipline. Animals and discipline??? For that, you need to be a little "wildlywise"!

Never mind that, for it's chow time now. Attached to the park is the Black Buck Restaurant, wildly raised against the ground with iron poles and rugged tarpaulin. The restaurant serves decent food from across Moghlai, Chinese and our very own Hyderabadi Biryani at reasonably leisure prices. Of course, with all the desserts!

The restaurant was actually developed for the Eco-Tourism Centre, which gladly offers you a cozy and serene stay. The tourism center offers a range of cottages for you to stay and enjoy every part of the wilderness. These cottages are aptly named Ragam, Tanam and Pallavi, according to their delicate palm, bamboo and log bas-reliefs.

"It's been just over an year since we started this center, and we already have corporate customers and marriage receptions," says a gleeful Rama Rao, who is the estate officer. Some of the exciting features here include Natural Camps, Green House Conferencing, Amphitheatre, and Library. Just pack your lenses and cameras and zoom in here, for this is a paradise you can experience while still alive.

And on a final note, here's something straight from Lord Mahavir: "A real Gyani is one who does not harm any creature." So stay on and live the urban adventure - just not the Salman Khan way!