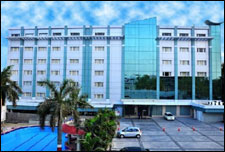 Okay, so it's not built of thatch and mud bricks, and the staff members don't wear khadi, but Manasarovar The Fern applies some pretty easy-to-do green concepts to its business. And being an Ecotel property is what distinguishes it from other hotels of its league.

Cloth bags, eco-friendly laundry baskets, the usage of potted plants instead of cut flowers inside rooms, and recycled water (relax – it's only for the flush) are a few things Manasarovar boasts of.

Other than that, the checklist of a business hotel is intact. Your room could be priced from Rs. 6,000 (plus taxes) onwards, and is equipped with broadband, cable television, a minibar, a hair dryer and a tea/coffee maker, among other things.

Banquet facilities fit upto 775 persons, and board rooms and meeting rooms help corporates conduct business. In-house restaurant Prana, the rooftop grill place Twilight, and a patisserie and a lounge bar cater to the hungry and thirsty.

What's nice about Manasarovar is that it's right in the middle of town, and it's plush and reasonably priced. As an added bonus, if the eco-friendliness impresses you, be our err... their guest.
LEAVE A COMMENT
fullhyd.com has 700,000+ monthly visits. Tell Hyderabad what you feel about Manasarovar The Fern - An Ecotel Hotel!