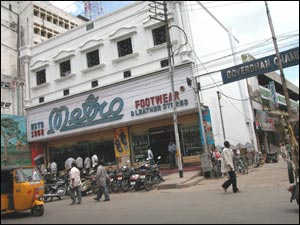 When you walk into Metro, you will be treated like a king. And that is really strange if you are a woman. Your servile subjects will curtsey, lead you to a throne, and this is where it all ends. They will now chain you up, bring in a menacing looking paan-chewing fella who will threaten you try on a multitude of ugly footwear by bellowing over your head so that your hair gets a taste of his betel-nut and saliva concoction. No pleas for mercy will be entertained here.

Neither will your shopping bag. Other than stocking unseemly footwear, the place has the audacity to overprice them at that. I mean, you'd think that for something that looks like a ferret threw up all over it, it would be available for peanuts. But no!

Okay, in all fairness, Metro does provide some footwear of the wearable variety, which includes brands like Lee Cooper, Red Tape, Florsheim, Marco Ricci, Nike, Reebok, Adidas, Liberty, Cat and Dr. Mauch that can be yours for anything between Rs. 695 and Rs. 5,000. Notice how none of their inhouse designs features in the wearable range.

The grungy range consists of wedding shoes in silver and other metallic tones. Also, a piece designed by Manish Malhotra, Rohit Bal and Azim Khan, that looks like a child wreaked havoc over it with a few sticks of crayon, is available for Rs. 4,000.

The line for women consists of sandals and boots in inhouse designs, Dr. Mauch comfort wear, and some Manish Malhotra designs. A variety of colors dominate this section, and Metro makes it a point to point it out to you by adorning the shelves where with the names of the colors in enormous, glittery, confettied letters. All these can be yours for anything between Rs. 390 and Rs. 6,000.

The most expensive piece in the store comes at Rs. 20,000. A quick search for the gold leaves you disappointed. This Italian design for men is made of pure leather. It is stuffed with a shoe horn, which they refuse to give you even after you blow up that kind of cash.

Metro has a negligibly small range for kids. The place also stocks a variety of handbags in various shapes, sizes and colors. Bulchee belts and socks are also found here.

The flooring of the store is tiled and carpeted for you to skip around on, to test your prospective purchase. That's the least they can do to apologize for their merchandise.