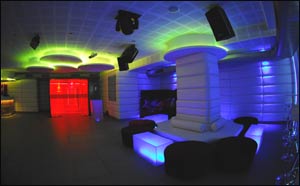 The soft diode-emitted light - red, blue, green, pink, or any of a combination of over a dozen colours, depending on the day and the pulse of the dance floor - bounces off the white floors, the milky leather cushions, the pearl white bar stools, and the plush red velvet pouffes, as you drink in the slickly done up interiors. The bouncing off of the light is inevitable - it's a law of nature. The drinking in is inevitable as well - it's a law of human nature.

Part of Platinum, a business hotel, Mix is a lounge-cum-pub set in one of Hyderabad's most bustling commercial districts, Himayat Nagar. It has a first-mover advantage where the nightlife scene in the locality is concerned, and its avant garde look and feel might just make it tough for any imminent competition to catch up, at least for a while.

Spread over 1,600 square feet, this place was earlier used to let people get together, sprawl around and chat aimlessly amongst themselves. In other words, it was a business conference room. Now, they let people dance here.

The dance floor and the lounge can together accommodate upto 200, but 98% of them may have to fight for the deliciously inviting king-sized couch.

Mix is equipped with state of the art OHM sound, a DJM 800 Mixer and CDJ 100 MK3 players. There's a wall-mounted flat screen for the bigger gigs. The in-house deejay, Mahesh, spins house music - progressive house, tech house and deep house are his favourites. Mahesh started his career at Underdeck, and then moved on to Leonia where he did a one-and-a-half year stint.

Kuldeep, the bartender, has designed the menu, and he swears by the Bite D Bullet (a shot of vodka spiked with chili and tobasco). The Love Bite - a mix of vodka, passion fruit, orange, pineapple and strawberry - is another of his favourites. Teetotallers have the frozen margaritas to drool over.

Indeed, this part of town has started to chill out, and it's interesting to watch it unfold for now.