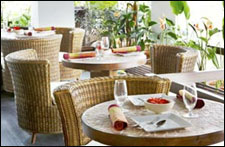 The Scene
Mozzarella, located adjoins Zafraan on the same floor, and is done up stylishly. An amply stocked-up bar and hi-tech gadgets all around, including in possession of the staff, further betray the kind of money thrown behind the place.

The lights are dimmed enough to heighten the sense of fine dining, and the brown woodsy décor and the potted plants – of which there are way too many in number, by the way – look anxious to set the tone.

Only, the rather bizarre statues kind of play spoilsport. There's a frog, and there's a woman in a bad pose, which, combined with the cluttered indoor greenery, do little to remedy the fact that the view outside isn't exactly the Swiss Alps.

The Food
… is in plenty, and heavily-priced. The starters aren't entirely Italian, and there's a dash of Falafel and nachos to widen the cuisine spectrum.

8 salads (Rs. 210 - Rs. 240), 12 soups (Rs. 120 - Rs. 150), 15 vegetarian appetizers (Rs. 200 - Rs. 220), and 12 non-vegetarian appetizers (Rs. 250 - Rs. 350) help kick start the meal. The appetizers also come in platters, and as always, are a far workable option – the vegetarian platter is priced at Rs. 350 and the non-vegetarian spread at Rs. 400.

The serving sizes won't feed a ravenous elephant, and dishes are sized to suit one appetite at a time. Still, the meal satisfies. Those looking for adventure, the Italian way, are in for some fun. Quirky dishes, like charcoal-grilled mushrooms, shout out for attention alongside the pastas, pizzas and risottos.

The pasta-pizza-risotto (with 10 pastas, 20 pizzas and 7 risottos) lineup forms most of the main course, and items cost anywhere between Rs. 240 and Rs. 350. Pastas are among the lowest-priced, though.

There's a section dedicated to grilled fare, much of it seafood. Prices here hit the roof, with the lobster costing you Rs. 750. Pre-plated meals and Oriental cuisine form the rest of the main course.

Then, there are the obligatory Tiramisus and chocolate pastries for the desserts (Rs. 140 to Rs. 160).

The Verdict
On the whole, this one targets those looking for continental food beyond the Au Gratins and the Penne Arabiattas. Head here for a date, or for that splurge you owe a few well-placed people.
EVENTS AT MOZZARELLA RESTAURANT
There are no events at Mozzarella Restaurant scheduled currently.