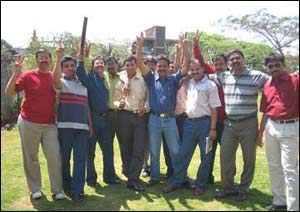 The Maslowian primal human need for affiliation has never been better validated than in the profusion of special interest groups whose mission statements sound like unimaginative rehashes of each other. At the end of the day, to get together and act in a group is a much more powerful, satisfying and fun means of being effective, no matter what it is you are trying to effect. And all of us are invariably trying to effect something.

MPower Business Excellence Club is another such group that might not yet have a very pointed set of objectives, but is high on ambition and anticipation. The main reason is, of course, that it is still a nascent group. Started only in 2004, before which it was an e-group, this club has managed to do well for itself by roping in 1,000 members across major metropolises in India today. Srinivasan Iyer, the CEO of MPower Business Facilitators Ltd, was the initiator of it all.

The Hyderabad chapter has 19 members today, who include academicians and professionals from business functions such as marketing, HR, finance and sales. The idea of the group is a broad networking platform where management professionals with various domain expertises can come together socially to interact, engage and enrich themselves professionally and personally.

While the Hyderabadi chapter is too young to have figured out just how to do that yet (their second meeting is scheduled in September 2005), the Mumbai chapter is in a more advanced stage of activity. From workshops where best practices across firms are shared, to disaster management and sourcing funds for the recent floods in Mumbai, they are slowly spreading their fingers.

Business excellence is looked into, but the Hyderabad chapter plans to have socially relevant activities as well. While still incipient and rather inactive, this might be a group to watch out for, simply for its professional manager member profile.
EVENTS AT MPOWER BUSINESS EXCELLENCE CLUB
There are no events at MPower Business Excellence Club scheduled currently.
LEAVE A COMMENT
fullhyd.com has 700,000+ monthly visits. Tell Hyderabad what you feel about MPower Business Excellence Club!