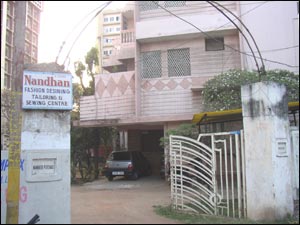 One would never notice this institute in this lane. Which is surprising, since Nandhan is not just an institute, but also a historical landmark in itself. The improved version of the owner's house with a few sewing machines is the campus of this "institute". From its appearance, it hasn't changed much in the past two decades. The moment you walk in, you feel like you are entering grandma's. It has those old cracked up walls and those stone slab floors.

An old widow has been running this place single-handedly. She has no children, and doesn't need money except to pay her taxes (if you observe, you will see that she has a nominal fee structure). In order to occupy her time constructively, she started to teach - the one thing she really likes to do. She is quite amicable and articulate.

There are no misconceptions about Nandhan - it does not mislead you. Young girls come to this institute in the hope of making a livelihood by tailoring or sewing. This satisfaction kept this woman running this place for 25 years.

Earlier it was called The Saghals' as it was a joint venture. But then they broke up, and now the whole place is run by Nandha Saghal - hence the name. This is one of those infrequent changes that took place. But nothing else has changed - not the building, not the courses, not Nandha. It is a great feeling to watch a self-motivated old woman teach young girls in the true essence, so that she might give them a ray of hope.

Courses Offered
Fashion Designing - 3 months
Pattern making - cutting and sewing
Hand and machine embroidery

For all the courses, the initial fee is Rs. 800, and this is followed by Rs. 200 every month.
EVENTS AT NANDHA FASHION DESIGNING
There are no events at Nandha Fashion Designing scheduled currently.
LEAVE A COMMENT
fullhyd.com has 700,000+ monthly visits. Tell Hyderabad what you feel about Nandha Fashion Designing!