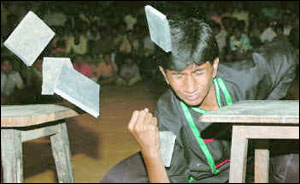 Aerobics went out of fashion with bell-bottoms and flower power. Yoga is for pale-faced foreigners who don't have anything better to do. The latest in-thing in the world of keeping fit, though, is Tai Chi. This Oriental art of undulating dance-like movements is made to order for us otherwise lazy Hyderabadis. And catering to this burgeoning demand for the moving meditation is the Niskin Monk's Kung Fu Tai Chi Universe.

A statuesque instructor welcomes you into the class at the break of dawn, and for the next hour and a half, you are guided and coaxed into the slowest movements your body is capable of, allowing your 'chi' or energy to flow unhindered within. Classes are usually held thrice a week, and the training goes all the way up to 2nd star. At Rs. 700 a month for this tutelage, it's a bargain anyway you look at it.

Of course, they also have hard defense training in Kung Fu to keep the young 'uns occupied. With single-minded dedication and immense concentration, these kids aim to give Jet Li a run for his money. And if you wondering how you would ever survive getting up at 6:30 in the morning and getting to class, not to worry - Niskin Monk's also gives personal training and home coaching, albeit for a hefty fees.
LEAVE A COMMENT
fullhyd.com has 700,000+ monthly visits. Tell Hyderabad what you feel about Niskin Monk's Kung Fu Tai Chi Universe (Banjara Hills)!