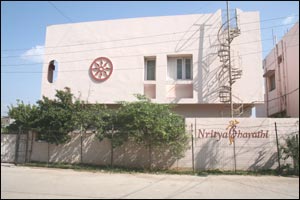 Swathy Somnath is a beautiful, engaging, intelligent woman. Passion defines her. When at a tender age she became conscious of her own fascination for dance, she enrolled for classes. And there has no looking back ever since.

She wanted to be a professional dancer, to do nothing but dance, to immerse herself wholly in her art. At the age of 16, she began to teach. She broke away from her guru, gathered her own orchestra, and gave individual performances. It was a bold, unprecedented move for a young woman in her days. But against all odds, she established a formidable reputation, and began Nritya Bharathi in 1996.

Swathy believes in openness in dance, as in life. She had the courage to depict Vatsyayanana's Kamasutra on stage in a beautiful, tasteful Kuchipudi ballet. Her senior students form part of her regular ballet troupe, and she is now trying to take a back seat and promote them into the limelight.

Swathy is firmly opposed to the use of political power and influence to get ahead in the world of dance. Her students must adhere to a strict dress code, for her principles never desert her. Her dance space consists of a large and airy hall with the furniture absent. She shares a good rapport with her students, and is open to the idea of teaching young girls and boys together, unlike other gurus.

She protests that boys are often denied the opportunity to learn dance because teachers do not want them in the same classroom as girls. Swathy, however, feels that imposing indiscriminate and artificial restrictions only makes rule-breaking more attractive. She is prepared to take on any student, but also warns that she will send them packing, irrespective of the gender, if she finds them misbehaving.

Being coached by Swathy Somnath, a danseuse of distinction and a human being of great charm and energy, is more than a mere lesson in movement. As the broad smiles of her students confirm, she is a teacher they like being taught by. And that is a rare distinction indeed.
EVENTS AT NRITYA BHARATHI (SWATHY SOMNATH)
There are no events at Nritya Bharathi (Swathy Somnath) scheduled currently.
LEAVE A COMMENT
fullhyd.com has 700,000+ monthly visits. Tell Hyderabad what you feel about Nritya Bharathi (Swathy Somnath)!