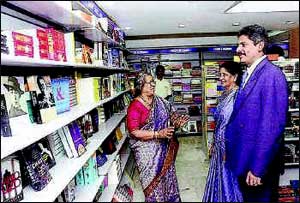 Everything under the sun might give you an exaggerated perception of Odyssey. Then maybe, it will not.

From fiction - featuring all the big names - to non-fiction - big names here as well - to the sci-fi fantasy section - which is very impressive given the fact that sci-fi is usually limited to a few names, Odyssey has 'em all. There is also a multitude of classics by all the greats of a time gone by. There's Goethe, Jane Austen, George Eliot, Keats, E M Forester, Anton Chekov and so forth. Kids find their own corner here with a huge collection of books for the early readers, picture books, workbooks and stuffed toys.

If books of a serious nature aren't your cup of tea, you can always look for some light reading in the food and drink section. If it's humor you want, there is a humor section... funny how that worked out. You can also check out the health and fitness section for a few laughs; apparently you can get the six-pack in multiples of 3 if constipation is your thing.

Walking along, you come to the sport and hobbies section which features books by eminent sporting personalities and general books on stamp and coin collecting. Lick it or flip it, either way this section has some very informative books on the sporting world. For the connoisseurs of knowledge, there is a very impressive collection of dictionaries and encyclopedias by Cambridge, Oxford, Webster's and Britannica.

There are also a few sections that are just many topics clubbed together, like the Architecture / Interior Designing / Advertisement / Fashion Photography category - and the Performing Arts / Literature / Popular Classics section with a very detailed inventory of classics.

Then there are shelves of books on gardening and on business/management. This section then flows into the gifts space, which is littered with sidepieces, vases, satchels, bags and decorative articles. This area includes the greeting cards department, with the usual assortment of cards for all occasions.

Another impressive thing about this place is the stationary. Mia caramba, this side of the store has every little thing that makes two pieces of paper stick together. Nope, no disposable tongues - just your clips, staples, pins, tapes, binders, notepads, pads, compasses and the like.

The music section is pretty much up to date, and includes a wide range of CDs from movies to games, and even a fair amount of educational multimedia. You also have a few music accessories like CD cases and headphones. and on the walk out or in, you have the magazine section with a plethora of Indian and foreign mags - Time, Vogue, Rolling Stone, National Geographic, and various business and computer mags.

All in all, Odyssey is a good place to shop, sprinkled with helpful people and selectively seasoned with reasonable prices. The fact that it is owned by a local newspaper's boss also ensures it an advantage in the free mileage department. Like we at fullhyd.com always say, the only thing better than being a newspaper boss is to be a bookstore owned by a newspaper boss.