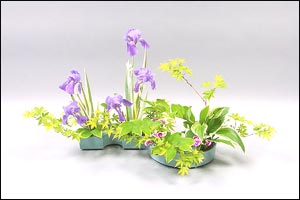 The topic of "Man In Communion With Nature" has been discussed and rediscussed over the years so often that any discussion now about it would be like a one-man game of chess. I will spare us all the trouble and the boredom, and get down to bare facts.

The Ohara School of Ikebana, founded in Japan, has one of its chapters in Hyderabad. This chapter was initially started by Horyu Meena Anantanarayan. The name Ohara comes from the style of Ikebana that is propagated by this school. And it deals mainly with flower and plant arrangement.

Ohara started as an effort to spread the love of nature among people. This is done by arranging pretty exotic flowers on your pretty glass-top Chippendale tables, ignoring the fact that it is bizarre to profess your love for nature and then cut parts of it for decorating your stylish homes.

But for any of you who beg to differ, courses in Ohara Ikebana are also offered at the members' own private homes. The Basic Course which constitutes 16 units costs Rs. 500, and the Advanced Course of 30 units, about Rs. 1,000. There are about 10 levels like this.

After you have successfully completed all the levels, you are given a certificate and a flower name as a prefix to your name. For example, Ohryu Rekha Reddy is the President of the Ohara School of Ikebana in Hyderabad. This is the perfect chance for rock-lovers to turn into authentic 'Flower Children'.

And along with a brand new name and expertise with plants and, not to mention, interior decoration, you can also have a little fun in their seminars, workshops and games. These are mostly conducted at the members' homes. But to be able to do all of this, you have to first become a member by contacting the Hyderabad Chapter. A life membership costs about Rs. 800, while a membership for a year is about Rs. 100. And if you are not so keen on getting neck-deep into all kinds of plants, a less prickly option is to simply visit their exhibition that is held each year in autumn.
EVENTS AT OHARA SCHOOL OF IKEBANA
There are no events at Ohara School Of Ikebana scheduled currently.
LEAVE A COMMENT
fullhyd.com has 700,000+ monthly visits. Tell Hyderabad what you feel about Ohara School Of Ikebana!