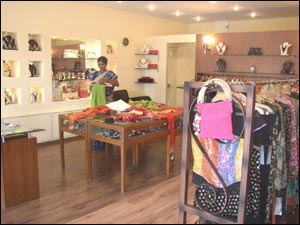 Orange Feathers claims that designer wear is for everybody. Yeah, everybody who is willing to sell their liver and one kidney to buy that one gorgeous outfit. And gorgeous is the most fitting way to describe the stuff here.

Spread over 721 precise square feet (the only thing worse than me writing this, is you reading it), Orange Feathers stocks the latest in women's apparel, fashion jewelry (is there any other kind?) and artifacts all under one roof. And mind you, all of it comes with a designer label.

The racks here are resplendent with designer names and labels from New Delhi and Kolkata. Tatwa, Raaga, Ekru, Bidisha Das, Stae, Manju Goenka, Sucheta Mehr and Payal & Priyanka are just some of them. Indo-Western wear, kurtis (short and long), salwar kurtas and saris are available in ethnic prints; with embroidery, surface embellishments, zardozi work, sequined work, brocades, antique prints, khari prints, bead work, mirror work, gota prints and banjara work; and in cotton, jute, georgette, chiffon, silk, crepe, organza, raw silk and designer wear kotas. All of this is priced between Rs. 1,000 and Rs. 11,500.

Orange Feathers also houses a range of costume jewelry in pearls, oxidized and sterling silver. The collection is designed by Vasundhara and Karishma, and showcases bracelets, earrings and pendants, priced between Rs. 500 and Rs. 5,000.

The place specializes in corporate gift packages, which include a set of watches, pens, shades, make-up kits and chocolates, and come for anything between Rs. 700 to Rs. 1,000. Orange Feathers also sells designer artifacts and Charissa handbags.

One trial room sits pretty in a corner of the store. That is all it does there, other than belting out long sighs awaiting the entry of innocent shoppers.

With it being located in the uppity Banjara Hills, you'd think this place would be abuzz. Exactly what it isn't. Not a single insect, actually. But that cleanliness is a joint effort of the staff here, who keep it extremely clean and natty. It is a part of their job description. Heck, it is almost the entire job profile.
EVENTS AT ORANGE FEATHERS
There are no events at Orange Feathers scheduled currently.