Osmania University Library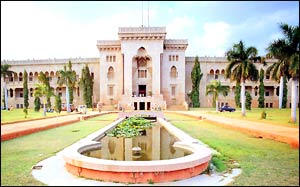 Frozen music, Goethe called it. And if one does accept this striking definition of architecture, it's possible to say that the Osmania Arts College is a song of voluptuous diversity, a triumph of travel. After all, it took a trip around the globe to put together one of the country's largest universities.

Finding the pink granite was not the problem, it was quarried from right on the campus (all sorts of things turn up on a land of 1,500 acres). But it was a Belgian architect, Monsieur Jasper, who gave it shape. Gothic, Moorish, Arabic and Hindu styles were liberally borrowed for this splendid edifice that served as the entire university for a while after it first opened.

Give you an example of the potpourri of styles incorporated within the OU Arts College: the grand arch that greets you is built in Persian Pishtaq form, the columns on the first floor are reminiscent of those in the caves of Ajanta and Ellora, the arcades and parapets are ancient Moorish, and the galleries are replete with ornamental pillars built in Hindu tradition. A harmony of histories is apparent everywhere you gaze.

And gaze you will - there's no other way to look at this gorgeously familiar Hyderabadi sight. Only the disaffected youth lolling about on the lawns and the joggers every morning can afford to treat the College like it'll always be in the background. The rest of us are still struck by how much beauty has been preserved and snatched from the vortex of time.
OSMANIA UNIVERSITY LIBRARY SNAPSHOT
Listed In

Address

Telephone

Email

Distance

Website

Sub-Categories

Year Started

Timings

Closed On

Closest Bus Stop

Closest MMTS Station

Add New Field:
EVENTS AT OSMANIA UNIVERSITY LIBRARY
There are no events at Osmania University Library scheduled currently.
LEAVE A COMMENT
fullhyd.com has 700,000+ monthly visits. Tell Hyderabad what you feel about Osmania University Library!